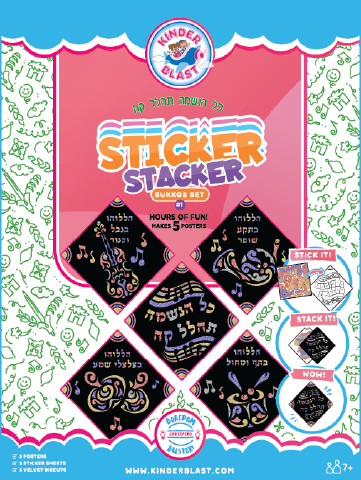 Take your Sukkah decor to the next level with layers of fun!
With Sticker Stacker you arrange stickers in a seemingly random way by following the number key.
Then comes the fun part... You cover the stickers with a velvet stencil and, woohoo! You've got a stunning masterpiece!
1. PUNCH OUT THE CUTOUTS FROM ALL VELVET POSTERS.
2. EACH POSTER IS COMPOSED OF 3 SHEETS: A VELVET DIECUT, A STICKER SHEET, AND A WHITE CARD. USING THE TEXT ON EACH SHEET, MATCH ALL COMPONENTS, SO YOU HAVE 5 SETS.
3. MATCH THE STICKERS TO THE CORRESPONDING NUMBERS ON THE WHITE CARD.
4. ONCE ALL STICKERS ARE APPLIED, PLACE THE VELVET DIECUT ONTO THE WHITE CARD.
5. USE THE "CORNER" STICKERS TO HOLD IT ALL IN PLACE BY STICKING THE CORNER STICKER ON THE CORNER OF THE DIECUT AND FOLDING IT OVER TO THE BACK OF THE WHITE CARD.
6. DISPLAY AND ENJOY!
5 Sticker Sheets 
5 Posters 
5 Velvet Die Cuts
Get on the List!
Sign up to be the first to know about surprise savings, sneak peeks, and exclusive KinderActivity downloads.