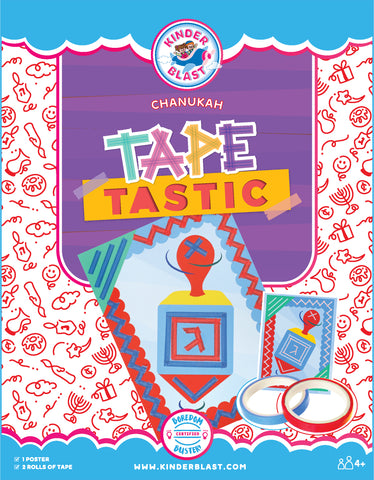 Every child loves to "tape." Give children the opportunity to tape – and tape creatively – with their own set of colorful tape rolls, and an exciting poster with taping guides.
In this Chanukah Tapetastic set, children complete the Chanukah-themed pictures by adding tape strips to fill the empty areas. This activity helps build basic skills and is an excellent way to spend time during Chanukah vacation!
Instructions

PEEL AND PRESS TAPE OVER THE WHITE LINES ON THE POSTER, MATCHING THE TAPE COLOR TO THE COLORED STRIPE, AND TEAR BY HAND WHEN YOU REACH THE END OF THE LINE
- 1 6x8" Poster
- 2 Rolls of Tape
Get on the List!
Sign up to be the first to know about surprise savings, sneak peeks, and exclusive KinderActivity downloads.