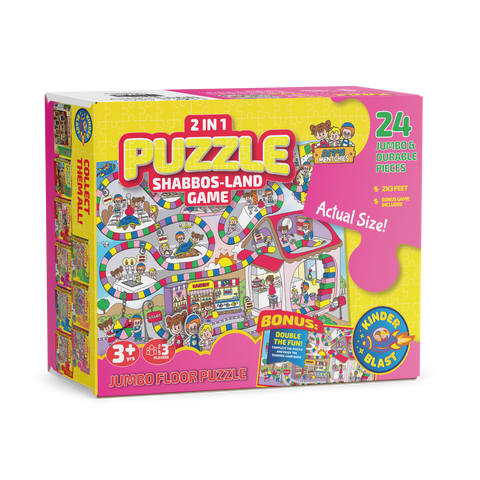 Let's make Shabbos together with our favorite Middos Mentchies! From shopping to cooking to cleaning and setting the table, there's a lot to get done before the zman.
But first things first. Gather all young Shabbos helpers on the floor to piece together this adorable floor puzzle. There are 24 jumbo, durable puzzle pieces in total, and when the picture comes together, you've got a 2' X 3' Shabbos-land board! Enjoy this classic game, suitable for young (and young-at-heart) children. There's no reading or calculating required. It's a fun adventure from the beginning to the end of Shabbos together with the Middos Mentchies family.
2-in-1 Puzzle. Double activity. Double fun.
- 24 durable pieces
- 3 character pieces
- Spinner included in the puzzle
- Completed puzzle size: 24x36"
Get on the List!
Sign up to be the first to know about surprise savings, sneak peeks, and exclusive KinderActivity downloads.