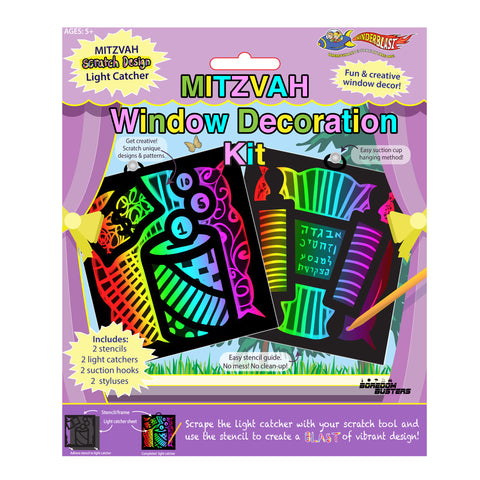 Get excited about Mitzvos by adding a pop of Scratch Blast color to your window! Simply scratch the coated surface to reveal the bright sun-catching colors underneath, and attach to your windows for de-lightful decor! Trace the stencils for a special Mitzvah-themed design, and use the include suction window attachment to display and enjoy.
Peel the stencil die-cut from the sheet. Remove all inner pieces so that only the stencil remains. Press the adhesive stencil/frame onto the coated side of the sun-catcher plastic sheet. Make sure it is centered before you adhere it. (Use picture from step1)
Now get creative! Using the provided scratch tool, design the sun-catcher by scratching the exposed areas within the stencil. (Use picture from step 2)
Note: Leave the stencil on the light catcher sheet permanently for display.
Place in a window using the included suction hook and watch the colors shine! (Use picture from step 3)
- 2 plastic scratch 'n design sun-catchers
- 2 stencils (Pushka and Torah designs)
- 2 suction hooks 
- 2 wooden styluses
Get on the List!
Sign up to be the first to know about surprise savings, sneak peeks, and exclusive KinderActivity downloads.